Chicks in the Sticks 2021
Sunday, 26 September 2021 –
Redlands Track Park (Scribbly Gums)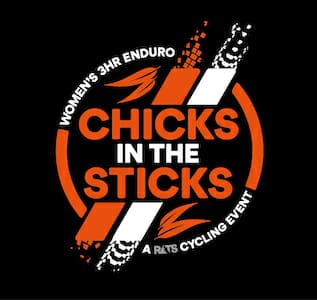 CHANGES as at 16 September, 2021
Due to feedback from riders and affiliated coaches, RATS Cycling Club has made the following changes to the CITS loop:
Have a Crack and Soft-Boiled Double Yolkers (effectively C-grade) will have a COMPULSORY B-line riding up Rising Main fireroad instead of Green Heaven. This is equivalent to the 2019 course.

An A-line option will run straight down to the bridge from the top of Platypus, therefore avoiding riding Platypus. This is an OPTIONAL A-line that is steep and fast.

An OPTIONAL B-line has been created partway along Pool Shark. It traverses away to the right and rejoins at the end of the single trail. It has been created to avoid the final few up-and-overs at the end of Pool Shark.
The new maps being circulated reflect these changes.
Smiles, costumes, colour and joy – it's a race, but not as you know it!
Chicks in the Sticks returns to Scribbly Gums in 2021, after a Covid-induced break in 2020, and girl – are we ready to ride! A new event base, new trails added, and possibly a few new tutus and knee-high socks purchased – come along with your family and your mates for a mountain biking event full of fun.
A new 300m trail, called Chicks Link, has been designed to ensure the Little Chicks get some single trail in their loop from the new race base. The Little Chicks trail (20 and 30-min races) is 830m with 15m elevation.
For the seniors, the ever-popular Pool Shark (minus the tricky entry) is included for the first time. And all riders will make the traverse up Green Heaven. The Chicks in the Sticks 2021 loop is 9.9km with 165m of elevation. See the 'course' link for maps of both loops.
Categories range from three-hours solo ($70) to teams of two ($40 each), divided by experience. And our Little Chicks ($30) have their own mini-course to shred or can tackle the full loop for two hours. See the 'categories' link for more.
Registration is open now. Find sizes and enter via our partner EntryBoss at the 'registration' link.
RATS Cycling Club has designed and focused this 'race' on the participation level of rider. While we do have our speedy sisters competing in Chicken Run, Hard-Boiled Double Yolkers and also in Battery Hens (ebikes) and Clipped Wings (single speed) – and we welcome them and their skills – we are conscious of ensuring the course is manageable for the newer riders.
Unsure if you can do it? Follow RATS Chicks Ride on Facebook for details of pre-event rides. These will be available to riders covered by AusCycling or other entity insurance, as per our usual Chicks Ride program. Details and costs at: RATS Club Rides or on the Facebook page.
In addition, RATS Cycling Club is paying for a mass participation licence with AusCycling, this means you do NOT need to purchase a day licence if you are not a member of a club. However, we encourage all riders to join up to AusCycling and a club near them (RATS members come from across South East Queensland, and we welcome everyone). Visit: https://www.auscycling.org.au/membership (Note: the fees on this site are AusCycling fees; joining the RATS costs $25 on top of those.)
Come along for a day of fun and frivolity in the forest!
Follow us on Facebook and Instagram to stay up to date with all the Chicks in the Sticks news.
Contact
Race Director – Lisa Toia cits@ratscc.com.au