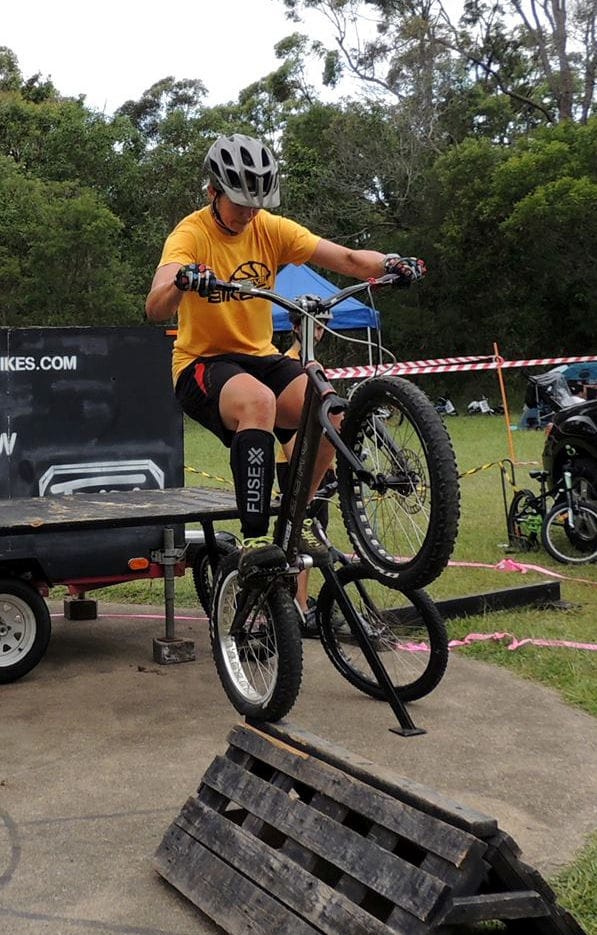 Mountain bike trials, also known as observed trials, is a discipline of mountain biking in which the rider attempts to pass through an obstacle course without setting foot to ground. Derived from motorcycle trials, it originated in Catalonia, Spain and is said to have been invented by the father of Ot Pi, a world champion motorcycle trials rider. Pi's father had wanted his son to learn motorcycle trials by practicing on an ordinary bicycle.
Trials riding is an extreme test of bicycle handling skills, over all kinds of obstacles, both natural and man-made. It has a strong, if small, following worldwide, though it is still primarily a European sport. Skills taken from trials riding can be used practically on any bicycle for balance, for example controlled braking and track standing, or balancing on the bike without putting a foot down. Competition trial bikes are characterised by powerful brakes, wide handlebars, lightweight parts, single-speed low gearing, low tyre pressures with a thick rear tire, distinctive frame geometry and usually no seat.
The RATS Cycling Club is proud to be the home of bike trials in South East Queensland. In 2015, club member Janine Jungfels became the first ever Australian to win the UCI Trials World Championship. Janine was named Australian female Mountain Biker of the Year as well as Logan Sportswoman of the year. Janine will be working closely with the club to promote and grow the sport of trials at our one-of-a-kind trials training park at Underwood Park.
To find our more about trials at the RATS Cycling Club, contact our Trials Coordinator via CONTACT US.