How long have you been riding bikes?
About 15 years – I only got into riding in my late 20's and got my first MTB when I was 30.
You ride MTB and road? Preference?

I ride both.  I started with triathlon and moved to MTB.  Then a few years on, I took up some road cycling to make me faster on the MTB.  Turns out I like any type of bike and in general like hard things.  24 Solo was my main gig, but I've completed lots of interesting things – like the Opperman All Day Time Trial, Grafton to Inverell, Brisbane Valley Rail Trail.
Mountain Bike is my first love for sure.  And adventure. Any type of adventure.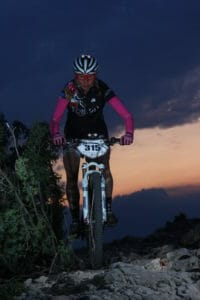 How often do you manage to get out on your bike?
I used to be out on the bike every day when I was training and racing regularly.  These days it's whenever I can, about two or three times a week.
How long have you been competing in races?
My first race was a 12hr enduro in Melbourne in 2004!  I remember being in awe of the solo athletes and loved the atmosphere of the pits and tents where everyone was hanging out.  Little did I know I was headed for the hard core solo myself over the next decade.
I see you are in the Koiled team?  Can you tell me about that?
Koiled was created by Shannon Duggan and I back in 2010.  It really started as five core riders Dog, TR, Nick, Shannon and I. Koiled was the imports and custom made bike business owned by Shannon.  It was essentially a bunch of mountain bikers who were also crossing over into road.  We tried hard to create a group that was focused on support and encouraging each other to our best – over the years we grew up to a roster of 40 riders and we have developed many riders who then took off to NRS or other serious racing teams.  I'm proud of having a big women's roster and we are one of the few teams that welcomed people from D grade to A grade.  My selection rule was based on being a good human and liking bikes.  At the heart of it, it's still supposed to be a bunch of mates who like to ride.  There's been a lot of medals and podiums over the years in both road and mtb but the highlight was definitely Koiled taking on the world at the WEMBO 24 solos in Italy in 2012.  Koiled team mate, Matt Powell and I both won that year and became world champions with Shannon and Kirstie in the pits – and it's still a source of many a 'do you remember when' story for us!  It took years of work, and several seconds for me to finally get there.  To share it with Matt also achieving his goal was pretty special.
http://www.wembo.com.au/past-events/previous-results
You are the first female cyclist to do the BVRT E2E and Back in under 24 hours – 334kms in 22 hr and 16 mins – why did you pick this as a goal?
Although I'm not racing, I still like challenges.  I chose BVRT because they dangled the 'can't a woman do it' carrot and more than one person called me out as up for the challenge.  A good endurance athlete needs three things – fitness, mental toughness and nutrition.  Even though I'm not as fit as I once was – you don't lose the mental skills or knowledge of how to manage your nutrition so I figured two out of three was good enough. I spoke to Matt Powell during the week and by Saturday we were pulled up at Ipswich with a plan to use the first 165kms as training for the second 165kms! Then it was a matter of just getting it done.  He is so solid, he was willing to ride with me despite having smashed himself on the SAME ride the weekend before.
How do you prepare for such a big ride?
Hmmmm.  My prep for something like this is probably a little different to most.  Clearly you need a certain level of fitness.  Working this out is really about knowing how far you want to travel in what period of time, doing some average speed math and then knowing how capable and comfortable you are at that speed.  Assuming that is locked, the next thing is equipment.  My poor race bike was flogged, Tom Wallace generously lent me a demo bike (seriously, let me take it for a 334km smashfest!).   Wouldn't recommend that to most – but over the years I have gotten to know exactly what geometry and measurements I dial on a bike so experience let me get away with that crime.  I am used to unsupported riding from years of expedition length adventure racing – so figuring out where we could find water stops, sorting gear in camelbaks, spares, food, and overnight lighting without a crew or pit tent was also familiar.
I think the biggest thing with rides like this (or say events like the Opperman all day time trial, 24hrs on the road, completing 620km together with Sarah Hammond, Jackie Bernardi and Jess Douglas) is the mental commitment.  They are tough and uncomfortable.  Learning not to expect anything else and accepting that is part of it, I think is key.  You make the decision to finish before you take the first pedal stroke.  And then you hold yourself to that commitment.  That's the secret.  And take a good mate like Matt Dog!
What is the biggest cycling challenge you've faced?
Wow, I've done some pretty tough things so this is hard to answer.  I've stood on the podium of many local, National and International 24s.  I've podiumed some of the toughest road events, like Grafton to Inverell.   To be honest, I think it is now.  Work and family are such that it's hard to find the time, and it is difficult not to compare me to earlier versions of me and feel less capable.  That's a dangerous thing and can rob you of your bike love.  I am finding things to keep me motivated and bring enjoyment – like BVRT or teaching others our great sport.
Do you travel with your bike?  Have you cycled overseas?
Yes lots!  I have raced in Italy, Timor, Canada and all over Australia.  I have traveled for pleasure with bikes to Spain and NZ too.  I want to go back to Italy and try some mountain bike packing racing!
I've also traveled BY bike – riding to Sydney in four and a bit days unsupported with Shannon because he had a meeting and…. well it was an adventure!  Standing at central station in Sydney after having rolled out of my driveway in The Gap only days before was really an amazing and surreal moment.  I quite loved turning up to the airport, buying a box and packing my bike under the stares of many 'normal' people wondering what the hell I was doing.  Adventure!
What is the most common problem you have on your rides?
Forgetting to fix something I noticed last ride like a loose pedal or setup.  Learning to do it as soon as you get in is the only way!
As a good 24 solo rider, you generally need to learn to ride around problems or there will be a lot of DNFs on your card!
Can you tell us your favourite cycling tale?
Early days I was racing a 24 in a team at Stromlo.   It was mid lap and we passed the transition area and a hero wanted to over take in a stupid place.  He squeezed past without so much of a 'track' only to wash out his front wheel and stack in front of me.  I happily attacked and instinctively yelled ' By a giiiiiirllllll' laughing as I went past.  The crowd went nuts – much cow bells and cheering.  I think he learned some track manners that day!
What is your day job?
I'm an IT consultant in a big global company.
You're a mum?  Do you cycle with your daughter?
Yep, Annabel is now 14.  She's hassling me to race again because she loves the pits and MTB is apparently 'much cooler than road'.  She rides occasionally but I've been careful not to soccer mum her into riding and let her find her own thing.
Favourite place to MTB in SEQld?
I live in The Gap so I love my local – Gap Creek.  It's an easy 10 min pedal from my front door and I'm so lucky to have it.
If you could cycle any route in the world tomorrow, where would you go?
I want to ride across Europe on that new end to end velo way.  I think I'd need three months.  It's on the planning board.
I'd really like to do some bikepacking of the MTB race style.  Maybe Cloudride or Ligurian Divide!
What is your favourite thing about a biking lifestyle?
The outdoors, the sense of freedom, and the fun.  Being strong and healthy is also a side benefit.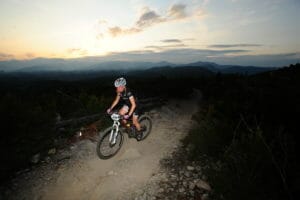 What would you say to others thinking about giving MTB a go?
You won't regret it.  And learning to get your bum back behind the seat will save you from 90% of newbie stacks.  You're welcome! 🙂