Bayview Blast 2018, was the best!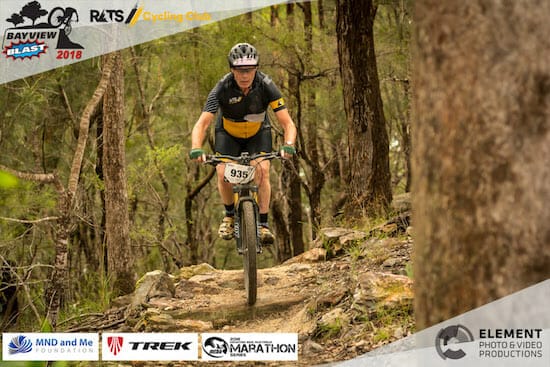 They came, they saw, they Blasted! Or, as one rider put it: "I went for a ride on my bike, I had fun, other people were riding bikes too, the course was great, I got some socks too! And when I finished I got a burger and a drink. Then I won some beers."
Can't beat that for a top weekend enjoying the trails in Redland City. And 687 riders agreed. This was a record number at RATS Cycling Club's biggest event of the year – the Bayview Blast.
The 'main event', the National Marathon Series 94 km race on Sunday, was won by Cam Ivory and Holly Harris in times of 4:18:17 and 4:53:15.
Harris, in peak form, took out top spot over Anna Beck (5:07:10) and Ashley Watling (5:53:45) in a solid contingent of elite women marathon racers battling it out in the muddy conditions.
Ivory and Brendan Johnston (4:18:23) kept pace throughout the race, with the national champ pipping Johnston through the final berms. Michael Harris (4:25:28), Declan Wharton (4:27:23) and Michael England (4:30:16) also had a solid break on the following elite men for much of the race.
The half-marathon 52 km event was well received, with both that and the full distance starting with a brutal climb to begin a 10 km start-loop followed by one or two laps of a 42 km track that encompassed the new trails – Whispering Woods and Pick Up Sticks – within Bayview Conservation Park.
The Saturday 25 km participation-focused rides were on similar trails and, for the first time, an e-bike category was included. The e-bike podium trio – Rodney Brannock, Brad White and Nick Hone – completed the 25 km loop in cracking times of 1:10:22; 1:12:22; and 1:12:33.
Just 25 seconds later, the U19 riders blasted out of Sorceress with Cooper Aves just pipping Matt Galway in a photo finish. Cameron Dann completed the junior boys podium in 1:13:38. Hayley Oakes took out the U19 girls 25 km event.
The shorter junior races (U9-U15) on Saturday morning were affected somewhat by the poor weather over Friday and early Saturday, but both Saturday and Sunday cleared from their morning showers to put on spectacular blue skies and show off why Queensland winters are the best.
After the races, riders were provided a free meal from the RATS Café, and a free drink from the MND&Me Foundation drinks marquee. MND&Me were the Bayview Blast charity partner for 2018. Teams racing on Saturday in the "MND and Me Corporate Team Challenge" were seeded and a head start awarded according to funds raised. The MND&Me Foundation supports people and their families living with Motor Neurone Disease in Queensland and funds research into treatments and a cure for MND.
Bayview Conservation Park's $1.3 million makeover by Redland City Council (also contributors to the Bayview Blast via Councillor's Small Grant funding) was given a huge thumbs up by riders and spectators. From the carpark, to the amenities, the skills track to the undercover areas, and of course, the trails – there was universal acclaim.
RATS Cycling Club wishes to thank all riders and spectators; the hard-working group of volunteers; Bayview Trailcare; Redland City Council Mayor Karen Williams and councillors Julie Talty and Peter Michaels; State Sports Minister and MP for Springwood (and 25 km participant) Mick de Brenni; Redlands State MP Kim Richards; emcee Andrew Demack; MTBA chairman Tony Hancock; QORF executive officer Dom Courtney; MTB Mechanic; Jungle Bean Coffee; Green Rooster Events massage; Queen of the Mountain; and MND&Me CEO Paul Olds and the foundation's volunteers for all their contributions to Bayview Blast 2018.
Social media feedback:
"I've ridden many MTB events in Qld and NSW and this was the best! Well done!"
"I went for a ride on my bike, I had fun, other people were riding bikes too, the course was great, I got some socks too! And when I finished I got a burger and a drink. Then I won some beers. My Infinit worked a treat. Happy Sunday at Bayview Blast…"
"Fantastic event! The upgraded trails and new ones add variety & keep one challenged. Took part on both days and really enjoyed all aspects of the event, not to mention the actual racing on top notch singletrack! Big thank you to the organisers and helpers who made this so special. Will be back next year!"
"Competed in the 25km #bvbmtb18 yesterday; had a great afternoon, fantastic trails and a slick & very well run event… Thanks everyone!!"
"I simply had a BLAST… Great fun with Great People and great exhibitors… Enjoyed myself very much. Thank you to the Organisers – Well done! Fast Live-Results too!!! Great stuff!"