Chicks in the Sticks 2022
Sunday, 28 August 2022 –
Karingal Scout Camp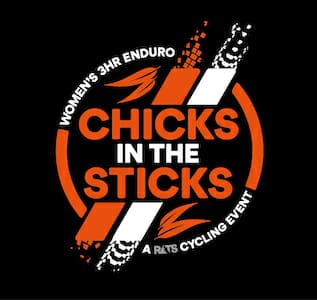 Smiles, costumes, colour and joy – it's a race, but not as you know it!
Chicks in the Sticks returns to Karingal Scout Camp in 2022 at a new event base, and on new trails designed specifically for this event. Karingal Scout Camp is not open to the public, so please consider attending our trailcare days where you get a chance to give back to the sport and check out the trails. Details on the RATS Cycling Club Facebook page.
A shorter green-level trail will be raced on by the more beginner-level categories, and a longer and harder blue-level loop will be used by the more experienced riders. Something for everyone! See the 'course' link for a map.
Categories range from three-hours solo ($80) to teams of two ($50 each), divided by experience. And our Little Chicks ($40) have their own mini-course to shred or can tackle the full loop for two hours. See the 'categories' link for more.
Registration is open now. Enter via our partner EntryBoss at the 'registration' link.
RATS Cycling Club has designed and focused this 'race' on the participation level of rider. While we do have our speedy sisters competing in Chicken Run, Hard-Boiled Double Yolkers and also in Battery Hens (ebikes) and Clipped Wings (single speed) – and we welcome them and their skills – we are conscious of ensuring the course is manageable for the newer riders.
Unsure if you can do it? Follow RATS Chicks Ride on Facebook for details of pre-event rides. These will be available to riders covered by AusCycling or other entity insurance, as per our usual Chicks Ride program. Details and costs at: RATS Club Rides or on the Facebook page.
Come along for a day of fun and frivolity in the forest!
Follow us on Facebook and Instagram to stay up to date with all the Chicks in the Sticks news.
Contact
Race Director – Lisa Toia cits@ratscc.com.au